« April 2011
|
Main
|
June 2011 »

» May 18, 2011
Flash

If You Think Poker's Risky, Try Writing Computer Books: Yesterday was the tenth anniversary of the publication of Special Edition Using Macromedia Flash 5, the book that put a cap in the eye of my career as an author of multimedia programming texts.
I'd gotten off to a bang with my Shockwave book six years earlier. It was the only book that I feel was an actual success (for me, if not for the publisher). It was supposed to be followed by a sequel that followed up on the improvements in Shockwave over the next eighteen months, but that was cancelled and my approach to a dictionary of Shockwave Lingo terms in that book turned into The Lingo Programmers Reference—probably the single most-well-received work I ever did—but which had the bad timing to hit the streets about the time the publisher was being consolidated into a new company. The birth of that monster book was difficult, I had to delve into Lingo I'd never used and try to figure out what it actually did. It went over schedule, the computer book publishers were already tightening up advances due to a glut of material, so what I was paid before publication was a lot less than I had on the Shockwave book and I never saw any royalties after publication.
My literary agent proffered me the chance to write the first official book on Flash, from Macromedia Press (he was representing them). It was a flat fee, no royalties were to be paid, it was the hot new technology. Macromedia had just bought Flash, and it was more of a design and animation tool than a programming platform at the time, so I wasn't exactly the person you'd think of to write it, but I needed money after months of working on LPR for no return. But I found the Flash book demoralizing. I'm not a designer or an animator—at least not in any sense that really counts—and the samples I was producing looked like crap compared to the material out in the wild. Still the book probably sold more copies than anything else I ever did combined. Not that I was to see any of it. The publisher left my name on the Flash 3 version of the book but didn't hire me to make the changes.
I worked on portions of a few other books, but the Flash 5 book was the last one I wrote more than a third of. It was supposed to be me and my office partner Peter Sylwester, with Pete handling the graphics and animation side of things and me doing programming, which had improved substantially over three years, but for various reason Pete had to leave the project and the publisher brought in Robert Cleveland to write the first half of the book. So far as I remember, I never met or even corresponded with Robert, or saw any of his material before the book shipped.
Every month for the past ten years, I've gotten a royalty statement from the publishing company's parent. According to the most recent, the "Total Net Earnings Current Period" is -$658.70. That's after ten years. The most recent statement month earned ninety-four cents. It was -$705.47 in January 2009. Just another data point in a graph of...something.

» May 11, 2011
Politics

But Is He Elect-Abel?: What is it with the GOP that the guy who was their nominee for President last time around and the guy who may have won the first debate in this year's contest have surnames referencing the Biblical First Murderer?
John McCain's last name references, at least, the "son of Cain", but Herman Cain comes from a family just outright named for Adam and Eve's more bloodthirsty son. Sins of the fathers and all that but you'd think it would bother the more religious of the party base. Do they have to get a campaign line with the prefix "666" or something?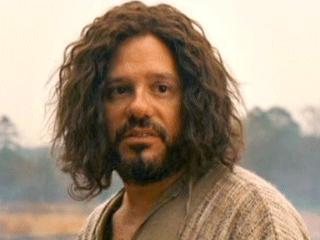 Books

Forty-Two: It was ten years ago today that Douglas Adams died. Adams was just a couple of months past his 49th birthday, and I'm coming close to the half-year mark, so I guess I've outlived him, but then there's the whole quality v. quantity debate.
I was working in a sci-fi bookstore when pirate cassettes of the original BBC Radio version of The Hitchhiker's Guide to the Galaxy hit American shores. Dupes were eagerly passed around among nerds and geeks; I've probably got mine in a box somewhere still. I remember being astounded that there was still radio work being done, it certainly wasn't something you found on US stations.
I didn't follow Adams's career through it's entire arc—I got off the sci-fi-mode, then out of books—but I remained aware of his impressive body of work, and the love of the fans.
So long and thanks for all the entertainment.

» May 8, 2011
What the...?

Digitized Decade 11: You Can Check Out But You Can Never Leave: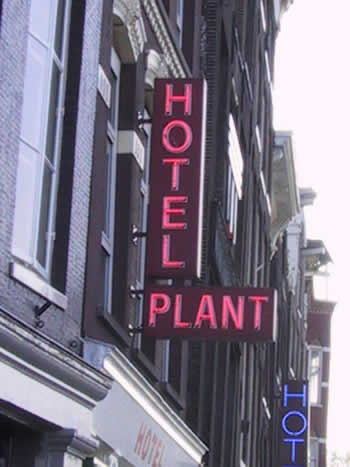 I noticed it on one of our very first ambles in Amsterdam, because it was literally on our way from the train station to the hotel we stayed at. If I'd known about it beforehand, I would have had to make reservations there, simply because of the name. Ten years have gone by and I still don't know anything about this little hotel on Prins Hendrikkade other than I really like the sign.
This trip was, by the way, the first place we ever saw a smart car. It took me seven years to get one.
The Digitized Decade is a look back at the first year of my entry into consumer digital photography.

» May 4, 2011
Director

Digitized Decade 10: Those Who Can, Do; Netherlands Edition:
One thing that was astounding to me about writing books on Director is how outsized my credentials appeared. In mid-1995 when I started working as a freelance digital file manipulator, I had never worked professionally in Director, although I'd been messing around with it for a couple of years and had actively been looking for projects. I lucked into a job actually teaching Director at Portland State University by being in the right place at the right time and proving that I knew enough to teach an introductory course. Then I chanced into the Shockwave book at the end of the year and I had a little bit of celebrity in the small Director pond. But it wasn't based on any actual work I'd done, and as time went on and I did more writing gigs and continued teaching, I couldn't really share stories about the cool kiosk or online gig I'd had because they just didn't exist. I wasn't exactly a fraud because I never represented myself as anything other than a writer and demonstrator of techniques, but there were times when I sure felt out-classed by the people I was hanging out with.
What was worse was that people were always eager to see me. I'd met up with developers on a London trip shortly after the publication of my first book, hung out with the infamous Peter "Lingo Sorcery" Small at his home, and visited James Newton, as I've already mentioned. Amsterdam was the superlative of these visits, because people actually travelled for significant periods of time (about as long as you can travel in the Netherlands) to get together at a cafe and drink some beers. From left to right in the photo above: Mark Reijnders (whose iPhone app "Clean My Screen" is currently available); Lucas Meijer (the 3D guru I'd met at UCON 2001 just a couple months earlier, now working for Unity); Mark Hagers (still doing the digital media thing); and Pim van Bochoven (Mr. OSControl Xtra who is always doing incredibly cool things). I knew why I wanted to meet them but why the hell did they want to meet me?
The Digitized Decade is a look back at the first year of my entry into consumer digital photography.

» May 3, 2011
What the...?

Digitized Decade 9: Fast Flying Ferries:
If there's one thing I regularly do on trips it's to get out on the water. Maybe it's one of the corny DUKW amphibious landing craft tours of Boston, or it's a whale-watching trip in Hawaii, or even the jet boat rides here at home on the Willamette River, but I love cruising through a town by boat. Amsterdam, of course, offers an array of water-related transport options, but when I saw that there were Russian-built Voshkod hydrofoils cruising between Amsterdam and IJmuiden-Velsen it didn't matter at all that I had no idea where IJmuiden-Velsen was (it's on the North Sea coast).
Barbara and I had been on a hydrofoil before, for the long ride from Seattle to Victoria, but the opportunity was too good to pass up. Half an hour out, half an hour back, along a heavily-industrialized canal, with IJmuiden-Velsen at the other end! We got out there with no real plan or idea of what we could do, managed to order some fries and wonderful curry ketchup at a stand (passed on the herring) at the dock, and headed back with another a tick off my checklist ten years ago today.
Call us troglodytes, we did not visit the Rijksmuseum. If you look at the prow of the Archimedes (now, apparently, retired from service) you'll see a bunch of dents. I guess zooming through trafficed canals at 40mph can lead to problems.
The Digitized Decade is a look back at the first year of my entry into consumer digital photography.
Politics

Cave or Spider Hole: From a Washington Post story by Scott Wilson and Anne E. Kornblut:
The Obama administration presented new details Monday about the death of Osama bin Laden, portraying the spiritual leader of al-Qaeda as a reclusive figure who had lived in relative luxury and whose final moments had finally exposed his cowardice.

As Americans solemnly remembered those killed at bin Laden's command, senior administration officials sought to turn their tactical military victory into a moral one by undermining the heroic image he had long cultivated among his followers. They stressed that he had been discovered not in a remote cave, but in a mansion in a wealthy Pakistani city. They also sought to suggest that, as he tried to escape U.S. Special Operations forces, he may have used one of his wives as a shield.

"Here is bin Laden, who has been calling for these attacks, living in this million-dollar-plus compound, living in an area that is far removed from the front, hiding behind women who were put in front of him as a shield," John O. Brennan, President Obama's deputy national security adviser for counterterrorism, told reporters at the White House. "I think it really just speaks to just how false his narrative has been over the years."
Apparently, there is already some
backtracking on the wife-as-human-shield claim
(not to mention the he-had-a-gun story) but really, was Osama bin Laden the person who's been claiming he was hiding out in a cave for the past decade? That's been the cant of officials from the Bush and Obama administrations, in their claims they had him pinned down in remote tribal areas on the border of Pakistan and Afghanistan, but presumably the people in al Qaeda who needed to know where he was were otherwise informed. Certainly there have been reports that he was in a Pakistani city somewhere for years.
And if he did put out the story that he was in a cave, was that "cowardly," considering the resources of the United States were presumably deployed to find and kill him? Or—again, assuming bin Laden and not American officials was the source of the cave story—was it "gullible" of anyone who thought he was going to make it easy for them to find him for the past ten years?

» May 2, 2011
Politics

There Can Be Only One: Was listening to some of the reporting on the mission to kill Osama bin Laden on NPR this morning and the reporter made the classic Osama/Obama mix-up when she was talking about the "hunt for Obama."
Now that OBL's dead, presumably Barack Obama can run for re-election without having any of that nastiness cropping up, although I do wonder how soon it will be before some bozo starts a rumor that because Obama had bin Laden killed, he's now in charge of al Qaeda.
EXTRA: Conspiracy nut Jack Bogdanski (yes, he's one of the folks still pushing the Sarah Palin "Trig Birther" stories) has latched on to the idea that the speech last night by President Obama was timed to pre-empt Donald Trump's Celebrity Apprentice. Maybe Jack doesn't know about time zones. The news conference interupted the East Coast feed of Apprentice, but the West Coast saw the show with a delay, according to Entertainment Weekly.
What the...?

Digitized Decade 8: Singel Spaced:
Barbara and I flew from Glasgow to Amsterdam for the final week of what was only our second trip to Europe.Apart from a one-day train trip from London to Paris and back on a cold December day five years before, we'd never made it to the Continent before. But we got to Schipol Airport outside of Amsterdam on 1 May 2001.
Stepping off the train from Schipol at Centraal Station, we were rather surprised to see a pane of glass shattered near one of the front doors. Out on the square in front of the station, a telephone box was smashed, there was an incredible amount of litter on the streets, and what seemed like rafts of beer cans in the water as we walked to our hotel along the Singel Canal. While everything else looked like the tourist photos—bikes, trams, people walking everywhere—the garbage all around didn't look quite right.
We got to the Hotel Singel (home of "Amsterdam's Smallest Single Room") and got settled in, then turned on the TV just in time to catch the evening news. We couldn't quite make out what had happened the night before, but video from the night before actually showed someone breaking out the window at the train station, as well as a bunch of rowdy revellers. As we came to find out later, we'd unknowingly made it to town the day after Queen's Day, a celebration of Queen Beatrix's birthday that isn't actually on her birthday. Remarkably, things got cleaned up pretty fast.
After the news was over, there appeared to be some sort of Amsterdam version of COPS that largely involved booting cars that had been parked too long (now, of course, we have Philadelphia-based Parking Wars).
And call me morbidly bashful, but I don't think I would ever be able to use one of the portable "pyramid" urinals set up for Queen's Day (and presumably other events) right on main streets in front of restaurants and other businesses.
The big event of early May in the Netherlands, of course, is it's tulip season. Miles and miles of tulips in chromatic rows. More of that later. This shot was taken (I think) from a train.
The Digitized Decade is a look back at the first year of my entry into consumer digital photography.