« June 2010
|
Main
|
August 2010 »

» July 25, 2010
What the...?

Behold the Catsino:
Last week was the first time I'd ever hosted the bi-weekly poker game that I've been playing in for a couple of years, so I had to set everything up to make sure that at least one table could be shoehorned into the space I was planning to use. As you can see, our living room doesn't have the typical poker mancave ambience of someone's basement/garage/unused bedroom.
The "Catsino" is not only bright and airy, but it's got a couch, a loveseat, and a cushy chair like "The Grand" room at the Golden Nugget Casino where Poker After Dark is filmed (although there's a bit less clearance between the back of the player's chairs and the cushions). The stuff on top of the TV includes the Ganesh statue I bought for our nineteenth anniversary.
You can probably guess from the fact that I took a picture I was pretty pleased with the setup. I arranged 20 buy-ins and add-ons worth of chips and a bunch of extras on the table, put an ace of diamonds and four of clubs on the table to honor Tomer Berda's World Series of Poker bracelet win (using one of the "official" WSOP decks I bought in Vegas when I flew down to have lunch with him, and which are not standard-size poker cards), and fortuitously found a clip from Poker After Dark to put on the TV showing Phil Ivey about to lose a bunch of money with a set of fours to David "Viffer" Peat who's drawn a flush with my favorite hand: a suited ace and jack.

» July 21, 2010
Politics

Eleventy-Dimensional Chess: This has ben percolating in my brain for a long time now, but it finally boiled over last night as a comment at First Draft:
The whole chess thing has to go away. Whoever thought it was a good idea to start using chess as an analogue for how "smart" politicians operate knows absolutely nothing about game theory, and the mindless repetition of the trope, if anything, just hammers the point in about how little the general public and commentators understand it.

Chess is a game of absolute knowledge. Nothing is hidden in a game of chess. There's no chance, there's no accident, there's nothing that can't potentially be foreseen and predicted. The only thing that can go wrong in chess is that someone makes a mistake. All the pieces are on the board. Their starting positions are set. The pieces can only move in specific ways. The only variance is whether you move first or not. Eleventy-dimensional chess is just twenty-dimensional tic-tac-toe.

But life and politics aren't like that. An unexpected event (aka "shit") happens. People lie about what they're going to do. Or they lie about the facts to the public and dare you to call them on it. That kind of stuff doesn't happen in chess or checkers or tic-tac-toe. There are a lot of games it does happen in, but success in those games requires a healthy dose of skepticism and a willingness to take chances which have been woefully absent in this administration.

» July 19, 2010
Politics

Macho Man: By the time you read this, George Stanley McGovern, former Senator of South Dakota and 1972 Democratic Party candidate for President of the United States will be on the ground one way or another, after skydiving on the morning of his 88th birthday today.
Just a little grist to add to the mill for my theory that George McGovern doesn't scare easily, as I mentioned on Daily Kos the other day.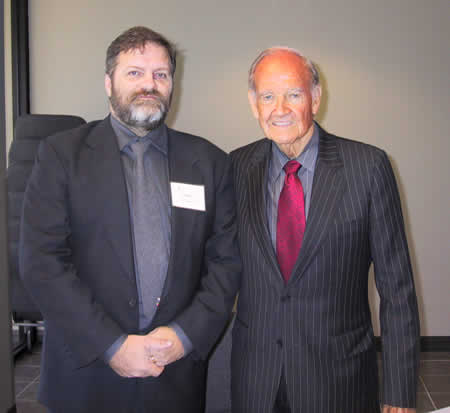 » July 8, 2010
Director

Tomer Berda Interviewed by ESPN.com:
Politics

Yes, English: Today it was in front of Target but I'd seen the bumper sticker before:
If you can read this, thank a teacher.
If you can read it in English, thank a soldier!
What we see is the evolution (presuming the person sporting this version believes in evolution) of the bumper sticker phrase "If you can read this, you're too close!" through the "thoughtful" phase which featured just the first line above to a jingoistic, anti-intellectual response that, like most blind expressions of nationalism doesn't really make any sense. Except for the brain fevers of the Reagan years when the Soviets were going to drive their tanks up from Nicaragua* or the more recent
Reconquista
fears of Lou Dobbs (or Phillip K. Dick's novel
Man in the High Castle
), when has the US been in danger of being subjugated by non-English speakers? The only serious invasions of US territory were two centuries ago, and the people who did the invading spoke English perfectly well
because they were the English.
You might as well have a bumper sticker that says:
If you can read this, thank a teacher.
If you can read it in English, thank your
pre-Revolutionary colonial masters!
* You have to wonder why the hell would anyone want to invade Brownsville, Texas or
Red Dawn
-era Colorado, anyway. Wouldn't the Soviets have been smarter to just hop across to Sarah's house and take over the Alaskan oil fields?

» July 7, 2010
Politics

Our Economic Future:
In the land of Atlantis where the sun don't shine
It gets darker down there every day
That's when two explorers fell into a mine
And that's the price they have to pay

They carry their clubs upon their back
Mole men, mole men
They climb above ground and then attack
Mole men, mole men
Beware of the head mole man, Jack
Mole men, mole men

They're the slavery labor of the underground
Their masters make them suffer and work
If you listen you're sure to hear the terrible sound
Of mole men crawling out of the dirt

The Dickies, "Attack of the Mole Men", Dawn of the Dickies

» July 6, 2010
Director

Bracelet Winner: Just over a month ago I posted an item about Tomer Berda, the DirectXtras developer who's turned poker pro and who took fifth place (and $117K) in one of the early tournaments of the 2010 World Series of Poker, which has been running since Memorial Day weekend in Las Vegas.
After emailing congratulations to him, Tomer was gracious enough to offer me some time to talk over poker, so I flew down to have lunch with him a week or so after his win. We sat for four hours in his favorite Thai restaurant a mile from the din of the Rio, I watched him eat a couple of lunches, he gave me more tips about playing poker than I can remember, and he told me about his life as a professional poker player and expressed his hope that he could win a bracelet at this year's WSOP (the bracelet being the award given to first-place finishers in addition to a hefty sum of money).
After his early win, it wqas a frustrating series for Tomer. There are about twenty general No Limit Hold'em tournaments during the series, and Tomer entered most of them, not making it past the first day of competition after his showing in Event 5 (the events tend to run three to five days depending on the number of entrants, which varies with the buy-ins of $1,000 to $5,000). The last tournament before the Main Event had a $2,500 buy-in, and 1,941 entrants. Big-name players like Daniel Negranu, Chris Moneymaker, and Phil Ivey fell by the wayside in the first day; an extra day had to be added to the schedule because of a late start, computer glitches, and a larger-than-expected field.
This event went better for Tomer, though, and just about midnight, after three hours of wild back-and-forth with Vladimir Kochelaevskiy over the chip lead, Tomer finally shut him down, winning his first WSOP bracelet and nearly $826,000. I would have loved to have seen it in person myself, but Tomer had some family there rooting for him, including his father (in the picture with Tomer).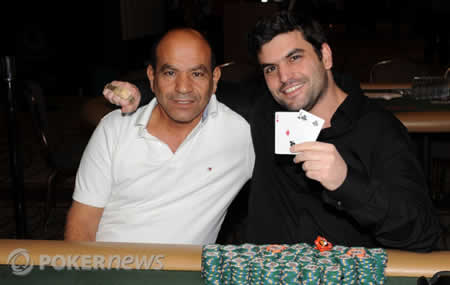 » July 4, 2010
Books

Diconix: It's summer again (at least that's what they tell us here in Portland despite the record rain in June and a totally blown Independence Day forecast which has ended up with cloud cover and no sight of the sun today) and time for cleaning out the boxes and corners of the house and garage.
Twenty years ago this summer I was in New York City for the first time. I'd just graduated from Reed (eleven years after getting out of high school, after attending three other institutions of higher education, and having spent five years out of school, a good portion of that unemployed). Barbara and I had just bought a house but we hadn't been able to move in before I left for NYC, because the closing check hadn't been paid to the previous owner yet, and she needed the money for deposits on the apartment she was moving to (the rental house we moved out of on my graduation day just sold for $228,736).
Back then I was working for Powell's Books, as was Barbara (after leaving her legal practice) and her sister Lori (who lived with us). I was fairly proud of my position within the company. I'd started off working in company-wide returns and stocking the downtown store's pop fiction section (everything from Tom Clancy to Barbara Cartland), then standardized the shipping for downtown (which had been more or less a free-for-all) and basically became the shipping department. All the while I was going to school at Reed I was working full-time at the store. I proposed a desktop publishing department to management around 1988 or 1989 and they spent $10K to buy a Mac II, a LaserWriter, and software with which I did signage, advertising, and an employee newsletter. I had big plans for the company, including a magazine that reviewed new and old books, in keeping with the Powell's philosophy.
So during my last year at Reed I started looking for how to burnish my publishing credentials and I found the New York University Summer Institute in Book & Magazine Publishing. I applied and was accepted and then the whole thing with the house happened and I had to head out, leaving barbara in the lurch to complete the move (most of our stuff was in the new house's garage, Barbara and Lori were staying with out friend Paula).
I carried my Mac Plus to New York, and I ordered this neat little printer from Kodak. The Diconix M150 is probably the smallest printer I will ever own. It weighs less than three pounds, it's smaller than a thick book of history. And it's twenty years old.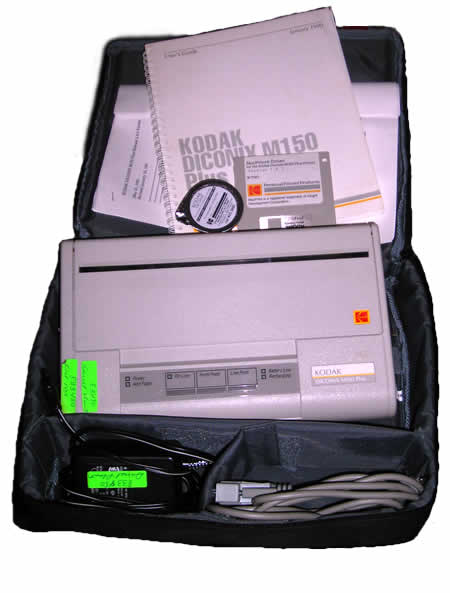 It's probably a bit difficult for some folks to remember the tech environment of two decades ago. It's even hard for me to come to grips with it sometimes and I was there. Lots of people are used to working on laptops that weigh next to nothing these days (not to mention iPads or smartphones) but the physical act of printing still requires non-virtual elements: some sort of mechanism that moves a printhead across a piece of paper and a type of ink or toner at the minimum. The Diconix was slow and its output was far from ideal, but for me, in an NYU dorm on Third Avenue printing out comps of cover graphics or proposals for books, it was like having some piece of spy paraphernalia.
After NYU I proofed a couple of books for Random House, but even though I had the key to his office, Michael Powell wasn't down with the idea of a book review magazine. At least not with me at the helm. After I left the company and started up Plant's Review of Books a couple of years later, Powell's came out with their own literary magazine, and of course now their critically-acclaimed web site is full of exactly the type of thing that I was trying to get off the ground twenty years ago, but them's the breaks.

» July 3, 2010
Director

Bedeviled: The Most Diabolical iPhone Game Sales Figures Ever!:
Today is the first anniversary of the release of my only items in the iPhone App Store: versions 0 and 1 (aka the free version and the paid version) of Bedeviled: The Most Diabolical Sliding Puzzle Game Ever!
I hadn't expected to get rich on Bedeviled. For one thing, after fifteen years in the freelance programming business, I have no illusions of getting rich off of anything I'm likely to do. After having to get a new laptop (my circa-2003 "Windtunnel" G4 desktop doesn't have one of them newfangled Intel chips) and an iPod touch just to develop for the iPhone OS, I was hoping to maybe break even. After deciding to invest in Unity for the development of Bedeviled (back when you had to pay for the base product and the iPhone addon), I wasn't expecting to do even that.
Being one of those people who likes to share information, though, I was anticipating sharing my sales figures with other developers, especially my colleagues in the Director community, particularly those who had made or were contemplating the iPhone market. I was especially impressed by the openness of other iPhone game developers, like Australia's Firemint, who put together a 16-page PDF report of sales figures covering the period from just before their Flight Control game took off to become one of the biggest hits of 2009. I thought it would be rather amusing to put together a similarly-formatted report for Bedeviled, just because the contrast was going to be huge. But I do love statistics.
I regret to inform everyone that I have failed to do so. Bedeviled came out on the Friday before July 4 weekend last year, amid a flurry of iOS 3 applications that were launched following the update's mid-June release date. For that and whatever other reasons (poor marketing?), not only did Bedeviled fail to sell but people didn't even download the free version in any significant numbers. And by significant, I mean that in the first month about 250 people had downloaded the free version and 20 (most of whom I knew) had spent 99¢ to buy a copy. Needless to say, the numbers didn't pick up after the first month. After a certain point, I stopped bothering to download the reports from iTunes Connect; it was quite apparent that without some infusion of advertising (and that's no guarantee) I wasn't going to see a penny from that particular project. Currently, Apple only sends you a check if the amount you've earned in a particular territory (US, Canada, Europe, Japan, etc.) is greater than an equivalent to $150, and since you only get 70¢ of each $1 in sales, you need to sell about $215 worth of product in a territory to get paid. 20 copies in the first month wasn't going to do it.
So here's the rundown: 1 sale in Europe (thank you Czech Republic!) in July 2009. 2 copies in Canada, one last July, one in January. 39 copies in the US, with most of them in the first month and no sales since April. That's what I have to share. It's kind of bleak but make of it what you will.
I've got plans for Bedeviled 2.
Director

Cross Your Fingers: All you Director poker aficionados out there send a little luck off in the direction of Las Vegas. Tomer Berda, the brains behind DirectXtras has been out there since Memorial Day when he came in fifth in one of the early events at the World Series of Poker, and he's got another shot at moving into the money (and a winner's bracelet he'd really like to take down) in the next-to-last tournament of the series. He's currently 47th in a second day field of 585, but that can be pretty much meaningless in a poker tournament. Only 198 people will get any money at all (smallest prizes are a little over twice the $2,500 buy-in) but top prize is $825,000. And the bracelet.